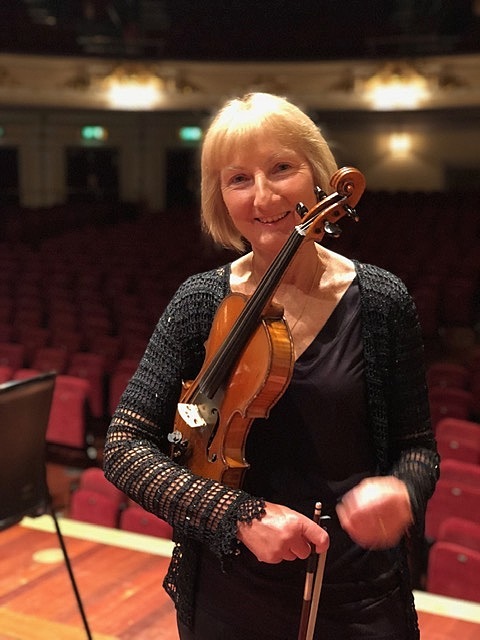 Mysie graduated from the Royal Scottish academy of Music & Drama in 1974 and embarked on her professional career as a violist with the Academy of the BBC. After gaining much valuable experience and working with many eminent conductors, she left to take up a position which she was to hold for 14 years with the BBC Scottish Symphony Orchestra. As violist with this orchestra she took part in numerous recordings for both radio and TV and undertook many foreign tours including concert tours to Hong Kong, Poland and the USA and Canada as well as regular appearances at the London Promenade series.
Following a further period of 2 years freelancing Mysie took up a teaching position with the National Youth Orchestras of Scotland. Her remit was to introduce classical tuition within Highland Region where previously the only access to tuition had been for traditional music.
At this time Mysie was able to embark on her long held dream to become a Suzuki teacher. She went on to complete her 5 levels of Suzuki violin training at the end of which she was appointed as a violin teacher Trainer. The Scottish Teacher Training Course was established in 2000 and has provided a means for teachers to undertake their training within Scotland. Mysie also continued her studies to complete all the levels of Suzuki Viola Teacher Training in London and Denmark and became the first viola teacher trainer in the UK.
For 22 years Mysie was " Head of Strings" at the prestigious ' Edinburgh Academy" where she was able to establish and run a highly successful Suzuki programme within the school. As well as teaching many pupils from nursery to school leaving on violin and viola she was also in charge of running a chamber music programme and conducting junior and senior strings orchestras. Mysie conducted performances of major string orchestra repertoire both at concerts in Edinburgh and also on tours in the Shetland Isles, Germany, Spain and Italy.
Since 2012 Mysie has been director of the Suzuki Viola Teacher Training programme in Madrid. She has also run viola conversion courses in Ireland, England; Iceland and Spain and is in demand as teacher; teacher trainer and examiner all across Europe. In 2013 she was very honoured to teach at the 14th Suzuki World Convention in Matsumoto, Japan.
Mysie continues to run her own private teaching practice in Edinburgh where she teaches both violin and viola players of all ages. She is also the mother of two Suzuki taught children and now grandmother of one.