Skip to main content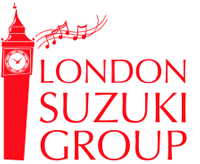 The London Suzuki Group ( LSG ) was founded in 1972 and was the first group in the United Kingdom to teach music by the Suzuki Method.
With 60 qualified teachers and over 600 children currently receiving tuition, the LSG runs individual and group classes, orchestral and chamber music courses, workshops and an annual residential summer course at Bryanston School in Dorset. The group offers instruction in violin, viola, cello, piano, flute, recorder and voice.