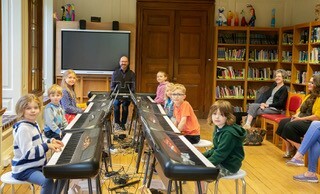 Becoming a Suzuki teacher will start where your instrumental course of study left off. The Teacher Training Course will include further work on your own instrument, including learning the Suzuki repertoire which you will be expected to play in full before you are accredited to teach. In addition to this, you will also receive instruction on HOW TO TEACH and the BUSINESS SKILLS required for music teachers.

Apart from the teacher training itself, being a Suzuki teacher is not a lone profession but includes you in part of a close community. You can join other teachers as much or as little as you choose. Should you want to join a group or be part of a course or workshop, the opportunity is always there.
The children you will teach are also part of a community. The inclusion of parents in the learning process of the child, the addition of group lessons and the opportunity for all Suzuki students to join concerts, workshops and camps, makes the drop out rate extremely low and the results, in terms of musical ability, extremely high.