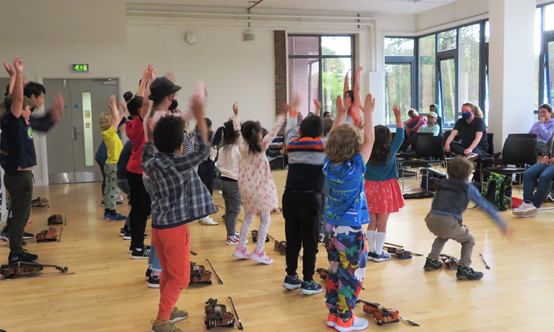 The Midlands Suzuki (International) Summer Workshop is a 4-day non-residential course for all Suzuki Violin, Viola, and ECE families, which takes place in August every two years.
This year, UK families, observers, and faculty (from Scotland to the Isle of Wight) joined us at the Midlands Arts Centre, Birmingham, located in the beautiful surroundings of Cannon Hill Park, where we enjoyed an 'amazing 4-day festival of musical delights' with tonalisation sessions, Suzuki group lessons, chamber music, playtogethers, improvisation, technique classes, musicianship, individual masterclasses, solo performances, singing, dancing, baby/toddler music classes, and parent sessions, finishing with a wonderful final concert for family and friends on the Saturday afternoon.

Especially after the tricky 18 months we've had, it was clear to see how grateful families and teachers were for the opportunity to be in the same space, to listen, learn, and make music together. It was very special to welcome families who had never attended a workshop before, as well as those who we last saw at MSISW 2019! We were also delighted to welcome back some older students to support the group classes and treat us to a fantastic performance of Wieniawski's Études-Caprices for 2 violins, Op. 18 (mvt 1 & 2) in our final lunchtime concert. The course had such a wonderful community atmosphere, with a positive and relaxed energy allowing everyone to thrive. We all left inspired, positive, and motivated, with a beautiful tone, great group sound, and new friends!

Thank you to our wonderful guest teachers Nancy Borrett, Louis Robinson, and Elaine Wilson, and to Sara Kimber, Melissa Morris, and Salima Pumuram, to our guest performers and helpers Shay, Alfie, and Emilio, and course directors Kristal Adamson, Mae Eastwood, and Sarah Eastwood. And special thanks to all the participants, parents, caregivers, families, and friends for making the course such a joy!

You can see more photos from the course on our Facebook page: fb.com/midlandssuzuki and SAVE THE DATE for our next Midlands Suzuki INTERNATIONAL Summer Workshop, 16-19 August 2023! www.midlands-suzuki.co.uk